Regular price
$70.00 USD
Sale price
$30.00 USD
Unit price
per
Sale
Sold out
View full details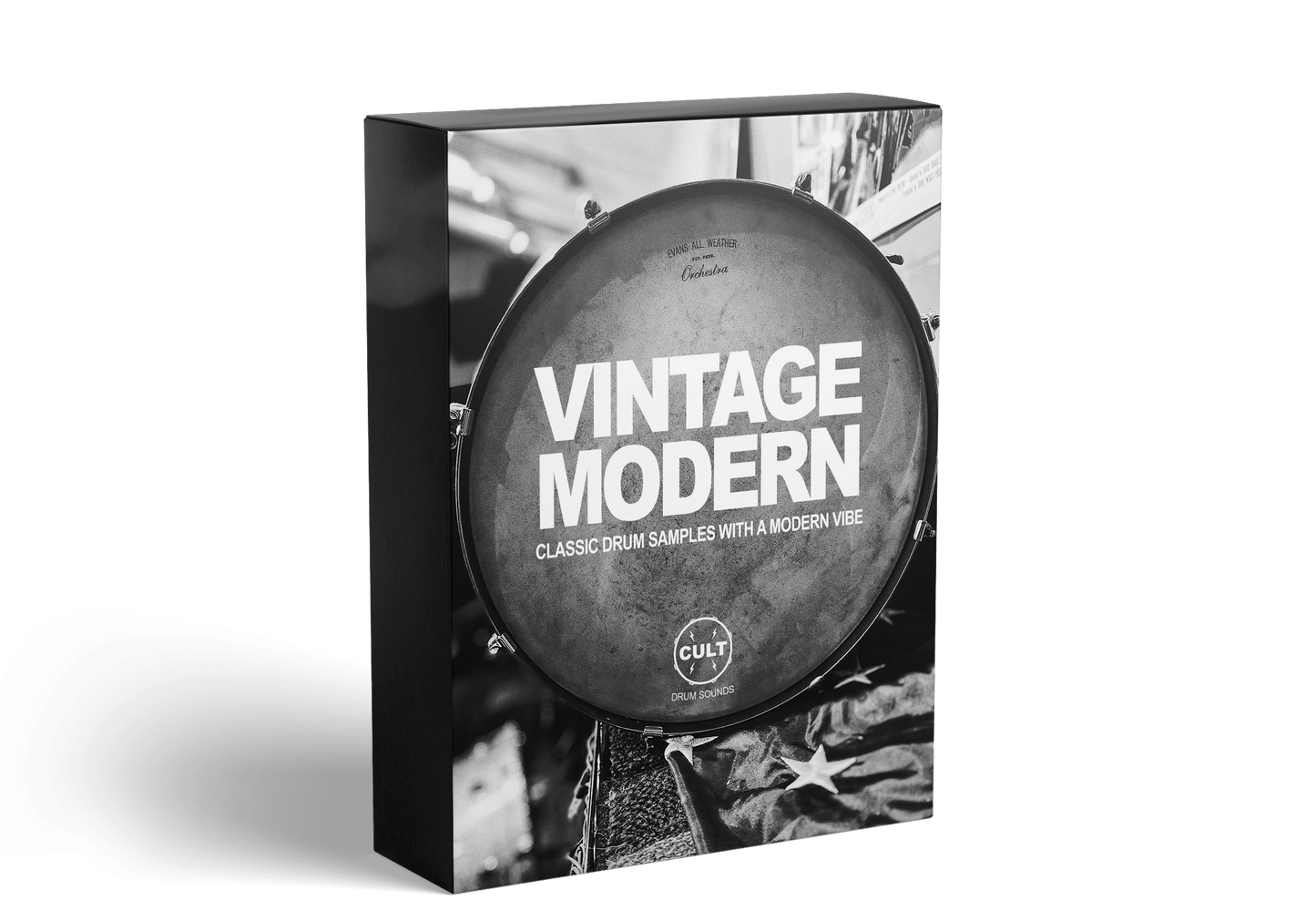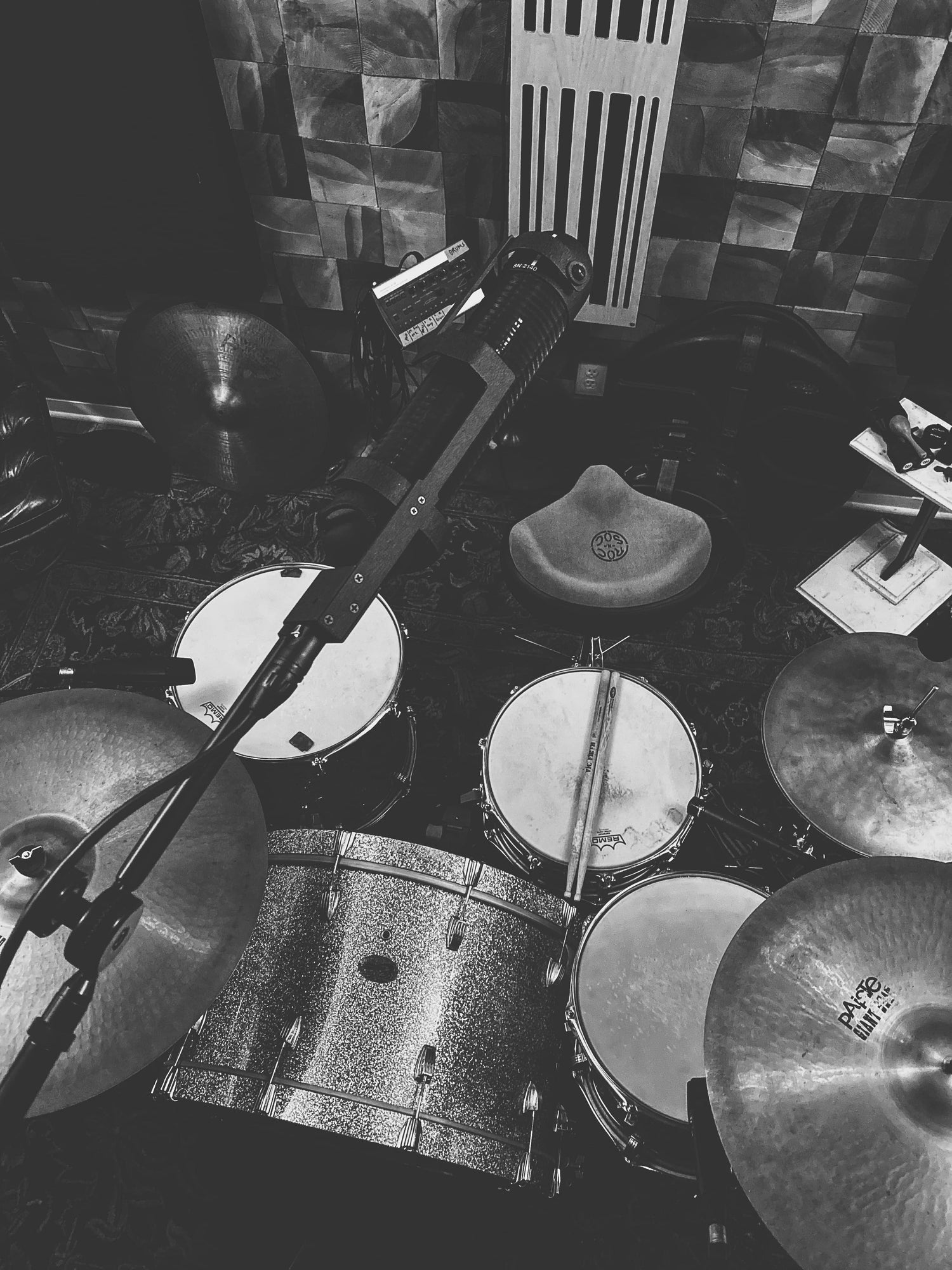 INSIDE VINTAGE MODERN
Bigger is better and VINTAGE MODERN is the very best. Our largest library to date features more than 2,800 samples and an incredible variety of studio drum sounds formatted for your DAW. We created VINTAGE MODERN with modern sounds in mind, ensuring easy use in any project across every genre.

VINTAGE MODERN includes five mix variations for each primary sample. Whether you're looking for a Supraphonic snare drum in a 1960s chamber, a huge studio live room, dry and close mic'd, room mic'd only, or slammed through a tape machine, VINTAGE MODERN has everything you want – and even more.
We used some of the most classic drums on the market to create VINTAGE MODERN. We crafted each sample using prime models of the same legendary studio snare drums, kicks, and toms that your favorite bands used. As a result, you can count on the best of the best in our lineup of 15 snares, 5 kicks, 12 toms, and 8 cymbal styles.
Into loops and presets?
We've got plenty of those to go around in VINTAGE MODERN.
Alongside presets for every sampler setup, we added an ambitious 165 audio drum loops to round out VINTAGE MODERN. We recorded and mixed our loops using the classic 1970s big drum sound, making it easy to manipulate the loops to suit modern day productions.
With vintage vibe and modern convenience, VINTAGE MODERN is the ultimate drum sample library for the beginner beat-maker, seasoned producer, and everyone in between.

Take your tracks back to the future with VINTAGE MODERN.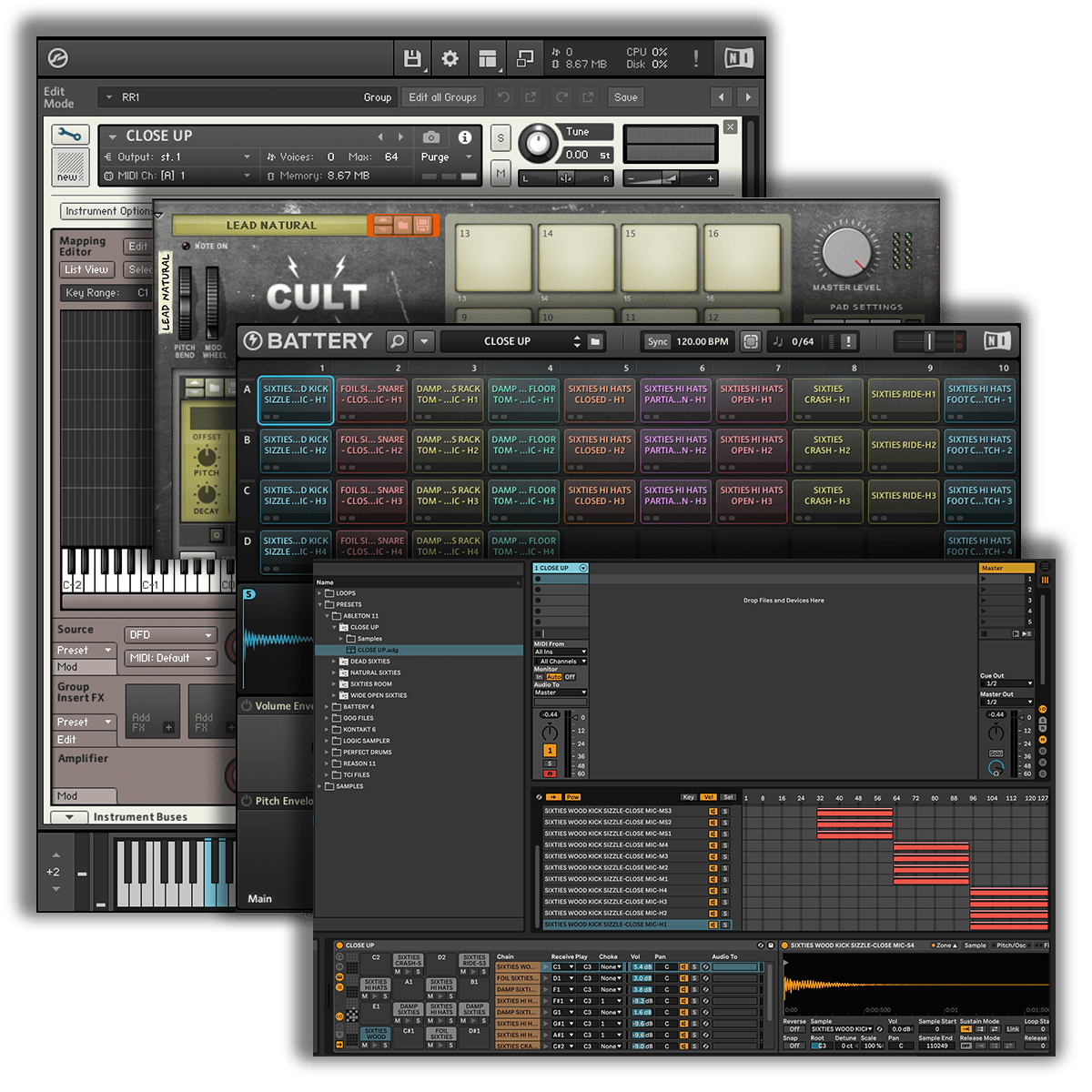 15 kit presets
15 MULTI-VELOCITY + ROUND ROBIN SEQUENCED KIT PRESETS FOR:
Ableton (Sampler Required)
Logic Sampler / Logic EXS24
Reason
Kontakt (Full Version Only)
Battery
Perfect Drums
VINTAGE MODERN TESTIMONIALS
SCOTT TOURNET

"I mainly write with drum loops and usually need to add a bunch of room sound, saturation, or reverb to get them to have human feel. With Cult Drum Sounds, I was writing a new song immediately after importing the loops. They got great sounds while still capturing the human element. Their loops and samples are the opposite of sterile."

Clayton Murray

"I picked up the Vintage Modern pack and tried just a couple of samples and man... unreal. I don't have a way to record drums so I just use MIDI drums, but layering your samples on them gives it such a huge and more real sound. Immediately improved the overall sound of the track I was working on. Thank you!"

Chris Snow

"Cult Drum Sounds are setting themselves apart from industry standard drum libraries. Vintage Modern is quickly becoming my go-to for drum samples while I'm mixing. I love how much variation and flexbility they allowme to have while still sounding natural when I'm looking for a new texture to blend with my original drums."
Collapsible content
WHAT SOUNDS ARE INCLUDED?

165 Drum Loops
Kicks: 5 (400 Samples)
Snares: 15 (1200 Samples)
Toms: 12 (960 Samples)
+ Cymbals (288 Samples)
TECH SPECS

2,848 Total Samples
165 Drum Loops
12.41 GB of files
Multiple Velocities per primary sample
4 Round Robins per primary sample
All Samples + Loops are 44.1kHz / 24 Bit .WAV
100% Royalty-Free
Instant Download (Download link sent to your email)
All purchases eligible for sample library and preset updates
PRESET LIST

15 MULTI-VELOCITY + ROUND ROBIN SEQUENCED KIT PRESETS FOR:

ABLETON 11 (Sampler + Simpler Instruments Required)

LOGIC EXS24 / LOGIC SAMPLER

REASON

KONTAKT 6 (FULL VERSION - Not Compatible with KONTAKT PLAYER)

BATTERY 4

PERFECT DRUMS (Download the FREE Version)

TRIGGER PRESETS FOR:

SLATE TRIGGER: 193 Multi-Velocity + Round Robin .TCI files

DRUMAGOG: 193 Multi-Velocity + Round Robin .GOG files